Welcome to our Speech, Language and Hearing Clinic at the Faculty of Education, the University of Hong Kong. Our clinic was established along with the Department of Speech and Hearing Sciences in 1988. Our goal is to provide state-of-the-art facilities for the clinical education of our students in the Bachelor of Science program. In the last two and half decades, over 600 students have gained valuable experience in our clinic and become qualified speech therapists. Our graduates work in hospitals, mainstream and special schools, special childcare centers and universities, while some engage in private practice, in Hong Kong. We are very pleased that many have joined us in the clinical education of our students by providing onsite supervision.
Through student training, we have provided assessment and/or therapy services to over 5000 individuals in the community. Our Clinic is committed to the provision of evidence-based services to individuals with speech, language, communication or swallowing disorders. Our Clinic provides diagnostic evaluation, individual and group therapy to individuals of all ages and accepts self- and professional referrals.
Upcoming events: 
Event: Experiential Learning in summer 2016
In the summer of 2016, 12 students from our division visited Zhongnan Hospital, Hubei Province Rehabilitation Center in Wuhan and two more rehabilitation centers in the satellite areas of Wuhan. During the visit, they provided seminars, demonstration sessions to teachers, rehabilitation practitioners, students from the School of Nursing of Wuhan University and parents of children with special needs. In return, they also observed the clinical sessions of some of the rehabilitation practitioners, who had attended their seminars and workshops, to see how well they have translated the skills learnt previously. On top of these, the students paid home visits to children from the Hubei Province Rehabilitation Center. During home visits, we investigated the feeding ability and communication needs of children during their daily routines. Intervention skills applicable in a home environment were demonstrated and recommended. This visit provided our students with opportunities to apply the knowledge about speech and language development, speech therapy skills, information counselling skills and service management skills in a community where the official language and dialect, infrastructure of rehabilitation services, education background of their collaborators and availability of service are all different from those in Hong Kong. The visit has also enabled our students to consider and realize the importance of service sustainability and consequently motivated them to develop realistic therapeutic plans and materials that are understandable, functional and applicable in the community where their clients stay. Our students had demonstrated a strong ability to adapt and lead. They have also learned to see speech therapy from a different perspective.
Photo caption:
Left top: Our visit to Zhongnan Hospital (Wuhan University)
Left bottom: Students delivered talks on intervention for social communication skills
Right top: Students demonstrated assessment skills to rehabilitation practitioners
Right bottom: Students demonstrated intervention skills to rehabilitation practitioners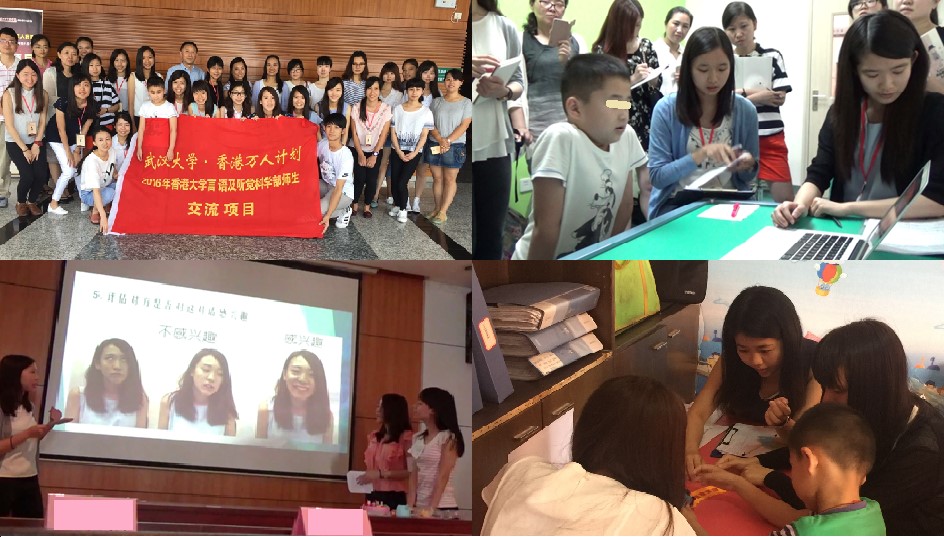 Friday seminar series: What is Speech Therapy about?

Event: Clinical Education Workshop on 10Feb 2017
Today (10 Feb) the Division of Speech and Hearing Sciences launched a clinical education workshop on clinical supervision (speaker: Dr. Margo Turnbull), evidence-based practice in SLP (speaker: Prof. Thomas Klee) and introduction of our current moves in curriculum. We are delighted to meet practising speech-language pathologists and friends in community. Sincere thanks for your time and effort to educating and growing the profession!

Photo caption: Opening speech by Clinical Education Director - Dr. Anita Wong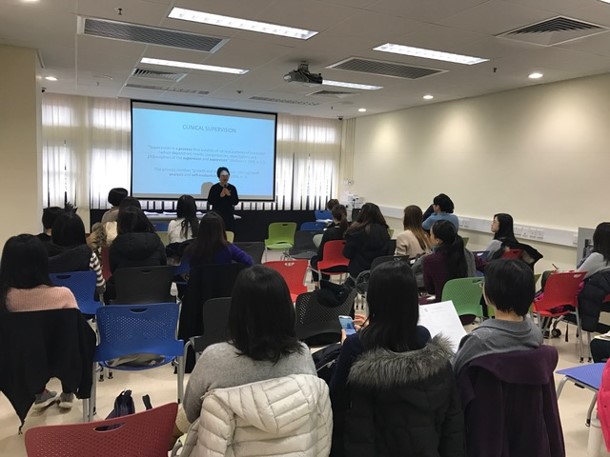 Photo caption: Sharing on clinical supervision by Dr. Margo Turnball